New collaboration looks to expose, end labor violations in UK fishing industry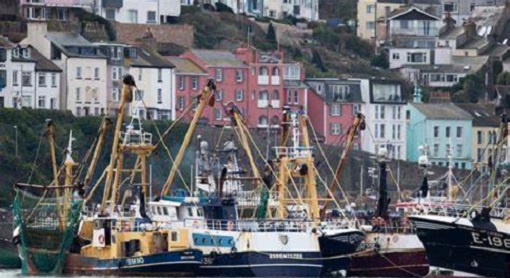 Several labor unions and a labor-based human rights group have come together to launch a pilot program aimed at identifying and combating human rights violations on commercial fishing vessels in the United Kingdom.
Together, the International Transport Workers' Federation (ITF) and the Fair Food Program (FFP) of the Coalition of Immokalee Workers' (CIW) are looking to implement the worker-driven social responsibility (WSR) model in the industry. The WSR is a U.S.-based human rights initiative highly regarded for implementing monitoring and enforcing workplace protections in food-industry supply chains, according to the ITF.
The move follows the report "Letting exploitation off the hook?" released by the University of Nottingham in May 2022, which investigated abuses migrant workers can face while working in the U.K. fishing industry.
"Human trafficking, forced labor, and other widespread human rights violations impacting migrant fishers working in the U.K. have been documented by the ITF and many others for years," ITF Fisheries Section Expert Chris Williams said. "This partnership is another positive step in holding employers, the seafood supply chain, and the U.K. government to account to end the exploitation of migrant labor on U.K.-flagged fishing vessels."
Williams said the project will develop a worker-centered model where fishers' rights are respected, and the pay and conditions reflect the difficult and demanding work they do.
The WSR model has been successfully implemented in industries ranging from agriculture to apparel on three continents, with over a decade of proven results, Williams said.
CIW Co-Founder Lucas Benitez said the model is designed to empower workers to serve as frontline monitors of their own rights, identifying and addressing human rights violations where they work.
"We go into this collaboration in the fishing industry with our eyes wide open – we know the many daunting challenges that lie ahead for workers who have suffered extreme exploitation in some of the most-isolated workplaces in the world," he said. "But as a community of farmworkers at the bottom of the U.S. food industry's massive supply chains, we ourselves have successfully risen to demand an end to generations of exploitation and abuse. By educating and mobilizing consumers over the past two decades, we built the economic power necessary to launch a new model for real, measurable, worker-driven human rights protections."
The initiative is being funded by philanthropic organization Humanity United and is supported by the University of Nottingham Rights Lab.
"It is exciting to see this partnership take positive steps toward solutions to address the abuses in U.K. fishing uncovered in our recent report," University of Nottingham Rights Lab Associate Director Jess Sparks said.
ITF and the Rights Lab have called on the U.K. government to reform its immigration rules to close a "transit visa" loophole, as detailed in the ITF, "A one way ticket to labor exploitation," released May 2022.