Inflation continues to impact US fresh, frozen seafood sales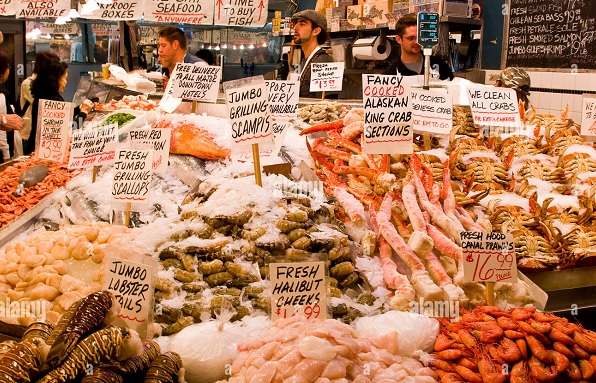 Inflation continued to impact fresh and frozen seafood sales in U.S. supermarkets in August 2022.
Fresh seafood sales plunged 6.1 percent in August to USD 504 million (EUR 504 million), according to new data from 210 Analytics and IRI Worldwide. Frozen seafood sales declined at a slower rate of 3.6 percent to USD 530 million (EUR 530 million). Conversely, shelf-stable seafood sales rose 5.3 percent to USD 213 million (EUR 213 million).
"Ambient seafood often does well during times of inflation and uncertainty. Today's marketplace is no exception," 210 Analytics Principal Anne-Marie Roerink told SeafoodSource.
August marks the seventh-consecutive month of year-on-year dollar growth for ambient seafood, and sales are up 8 percent compared to August 2019.
In addition, shelf-stable seafood sales are being pushed up by lower overall inflation and cost-per-unit versus fresh and frozen, according to Roerink. Shelf-stable prices rose 9.9 percent in August versus August 2021 to an average of USD 2.06 (EUR 2.06) per unit.
Prices of frozen seafood, on the other hand, jumped 11.6 percent to USD 10.67 (EUR 10.67) per unit on average, while fresh seafood prices rose 9.3 percent to USD 9.13 (EUR 9.13) per unit on average.
"The price inflation in fresh seafood was predominantly driven by finfish, up 16.2 percent in the average price per unit compared with August 2021," Roerink said.
Overall grocery inflation soared 14.3 percent in August, up from an increase of 13.3 percent in July, which impacted all categories across the store.
"We are beginning to see consumers scale back purchases both in terms of units and volume in recent weeks, as retail food and beverage prices have continued to rise," IRI and NPD President of Thought Leadership for CPG and Retail Krishnakumar (KK) Davey said in an IRI press release. "While retail food and beverage sales had been fairly resilient, we're seeing signs of consumer stress, particularly among low-income households."
Volume and units of several discretionary categories – frozen seafood, candy, and snack bars/granola bars/clusters – have slowed down significantly more in stores in low-income areas compared to the overall market, "suggesting the trade-off low-income consumers are making to feed their families," IRI said.
At the same time, consumers are willing to pay a premium for some categories – such as pasta, pasta sauce, butter, and frozen entrées – which are considered affordable indulgences for more cash-strapped shoppers, Davey said.
Inflation is particularly impacting fresh seafood, with prices up 10 percent over the 13 weeks ending August 8, IRI Executive Vice President, Americas Protein Practice Leader Chris DuBois told SeafoodSource. As a result, fresh seafood sales are down 10.5 percent by volume and 19.1 percent by value compared to the same quarter last year.
However, salmon has been the star of the fresh seafood case, with sales up 7.5 percent and volume only down 7.1 percent for the quarter, despite a 15 percent price hike.
"Salmon increasingly has been a focal point for retailer circulars and it's been a big draw for consumers to stay involved in the fish case," DuBois said.
In August, fresh seafood items that realized the greatest sales drops were tilapia (down 20.3 percent), seafood cakes (down 15.3 percent), shrimp (down 15.4 percent), crab (down 12.8 percent), and lobster (down 6.9 percent).
The recent price declines in the crab and lobster markets haven't helped drive retail sales yet, DuBois noted.
"As we get into holiday season and if prices stay moderate, I'd fully expect sales to pick up," he said.
Consumers are also shopping differently due to inflation. Total U.S. online grocery sales slipped by less than 1 percent to USD 8.5 billion (EUR 8.5 billion) in August, according to the Brick Meets Click/Mercatus Grocery Shopping Survey fielded 29 to 30 August, 2022.
"Despite this small year-over-year dip, ongoing shopper research conducted by Brick Meets Click over the last four years shows how e-grocery sales have remained at significantly elevated levels following the dramatic surge experienced at the onset of the pandemic," Brick Meets Click/Mercatus said in a press release.
Other shopping behavior changes noted by the research firm include cutting back on purchases and bargain hunting. Overall, retail food and beverage unit sales declined 4.5 percent compared to a year ago, and volume sales declined 4 percent in August, according to IRI.
IRI also noted trips to food and beverage stores are up 3.5 percent versus a year ago for the latest 12 weeks ending 21 August.
"Quick trips are up 6.7 percent during the same period compared to a year ago, while pantry stocking trips are down 0.6 percent, suggesting that consumers are looking for deals and 'cherry-picking' stores where they can get the best value," IRI said. "And, when they stock their pantries, there is an uptick in trips to mass merchandisers and club stores, indicating value-seeking behaviors."