Russian seafood firms finding workarounds to Western sanctions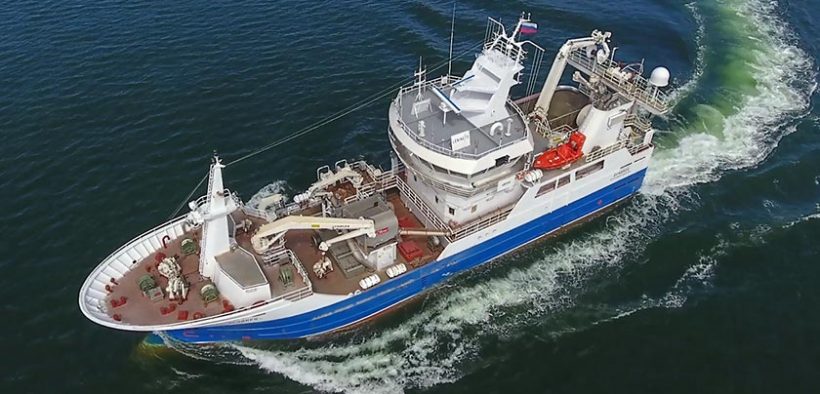 Despite facing a slew of international sanctions, Russian seafood exports increased year-over-year first seven months of 2022 in both value and volume.
However, a slowing of its seafood trade in recent months could be a warning sign trouble lies ahead.
During the first half of 2022, Russia sold 1.1 million metric tons (MT) of seafood in overseas markets, up 18 percent compared to the corresponding period of 2021. In sum, Russia's exports were worth USD 2.9 billion (EUR 3.16 billion), an increase of 21 percent, the Russian Federal Agency for Fisheries said.
Russia's exports in the first seven months of 2022 rose 24.2 percent by volume, reaching 1.12 million MT. In value terms, Russia's exports reached USD 3.1 billion (EUR 3.2 billion), an increase of 20.6 percent.
Major markets for Russia's seafood exports were South Korea, China, the Netherlands, Nigeria, and Japan. Much of Russia's crab, caught in the Russian Far East, is now routed through Busan, South Korea, following international sanctions in response to its invasion of Ukraine.
"No doubt, we're fulfilling the domestic market in 2022 and are able to develop our exports," Russian Minister of Agriculture Dmitry Patrushev noted in his speech at the V Global Fishery Forum in late September 2022. "Despite the sanctions and unfriendly actions by some states, Russia is pursuing seafood external trade. Last year, Russia exported to 58 countries, this year it is 60. We are responsibly fulfilling our obligations and relying on equal-right dialogues."
Russian Federal Agency for Fisheries Head Ilya Shestakov did concede in an interview with "Marine Science and Technique" that the country still has "certain difficulties in some export segments and problems with logistics, especially in the Northern Fishery basin where fisheries don't have enough refrigerated transportation fleet." He also said while the U.S. market is now formally closed to Russian seafood, other markets remain open.
"There are logistics challenges, but these markets do work," he said.
The Russian government initiated an effort to help the seafood industry cultivate new markets in 2021, after the Chinese market was abruptly cut off to Russia due to the COVID-19 pandemic for the better part of a year. Between the COVID-19 crisis and trading sanctions, Russian businesses have been active in searching out alternative markets, and have also made a push to improve and increase the sector's value-added processing and servicing of Russia's domestic market.
These strategies are working, according to Russian Agricultural Deputy Minister Sergey Levin. Russian seafood sales to South Korea increased by 35 percent in 2021 compared with 2020, while its sales to the Netherlands rose by 70 percent, to its sales to Japan jumped 260 percent.
Along with the increased focus on new markets, the reopening of the Chinese market helped further boost Russia's seafood exports. Exports to China, the number-one destination for Russian seafood, increased 67 percent in volume and 50 percent in value during the first half of 2022 compared to 2021, Levin said.
Levin said Russia is looking to Brazil, Qatar, and Nigeria and key targets for 2022, and is hoping to make the United Arab Emirates a hub of Russia seafood trading to Kuwait, Brunei, Bahrein, and Saudi Arabia.
Importantly for Russian traders, Levin said, was that the U.S. ban on Russian seafood thus far has not affected sales of pollock, the country's largest export by volume. Alexey Buglak, the president of the Pollock Catchers Association, said in an interview with Fishnews that Russian seafood firms sold less than 1,000 MT of frozen pollock and fillet into the U.S. market last year.
Russian seafood companies are also looking for new markets for other species. Antey Group Vice President Azamat Yusupov said his firm is now sending crab to the U.A.E. Negotiations with potential buyers from other countries, including Malaysia, Singapore, Qatar, and Thailand are also taking place, he said. And Antey is planning to begin exporting crab from the Barents Sea in China.
Norebo Group has also begun to explore different markets for its entire range of products, including ready-to-eat products, according to Norebo Deputy CEO Sergey Sennikov, with Mexico, Brazil, Africa, and the Caribbean as top targets.
Other companies, however, are still going all-in on China.
"The plan A for us is China," Russian Fishery Company (RFC) First Deputy General Director Savely Karpukhin said during the V Global Seafood Forum. "Plan B is China. And, I think, plan C also would be China."
RFC recently sent nearly 1,000 MT of pollock to Brazil, but found consumers there to be very price-sensitive.
"It's not about where to sell. It's about what to sell," he said.
While many Russian seafood companies are seeing better-than-expected results given the current geopolitical climate, there are some signs that the trend is reversing.
The Russian Federal Service for Veterinary and Phytosanitary Surveillance (Rosselkhoznadzor) reported that exports of seafood from the Murmansk region, a key production area of the Northern Fishery basin, decreased between January and August 2022 by 6.9 percent year-on-year to 121,000 MT, Portnews reported.
In the regions of Primorye and Sakhalin in Russia's Far East, the drop in export volumes through August was 2.7 percent to 814,000 MT.
While the decrease in Murmansk is likely linked to the U.S. ban on Russian crab, it's unclear why reason exports from Primorye and Sakhalin dropped. Russia's seafood exports seem to be on track for a positive 2022, but the situation across regions and segments is becoming more uneven as the impact of changes in trading status and economic headwinds, including inflation in many parts of the world, take a toll.