"Incredibly high" inflation adding GBP 833 to average UK family's grocery bill, impacting seafood sales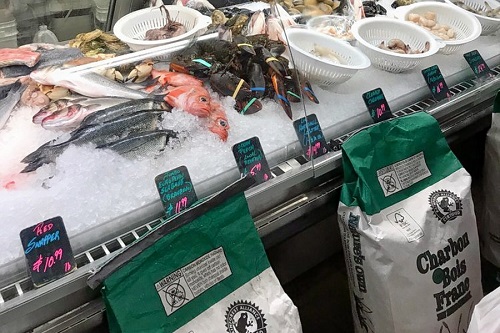 The rate of inflation for prices of seafood sold at retail in the U.K. continues to rise, with chilled seafood plummeting as a result, and even shelf-stable, or ambient seafood, suffering a decline in sales.
The rate went from 1.2 percent in September 2022 to 6.8 percent in March 2023, Watson noted, citing NieslenIQ data. As a result, U.K. retail seafood sales dropped 1.2 percent to GBP 4.08 billion (USD 5.1 billion, EUR 4.7 billion) from the end of Q1 2022 through Q1 2023, according to Richard Watson, market insight analyst at Grimsby, U.K.-based trade organization Seafish. Overall seafood sales plummeted 7.5 percent by volume over that period, Watson said.
"2023 will remain a tough year for seafood. Retail category consumption decline continues to accelerate as inflation builds and the ambient sector – the only seafood sector in volume growth over the past six months – returns to decline," Watson told SeafoodSource. "Although building momentum, seafood inflation remains modest compared to the 17 percent seen for other foodstuffs, but further price increases will increase the rate of seafood consumption decline in 2023."
Chilled seafood continues to show the strongest accelerating decline, with volumes down nearly 8.7 percent in Q1 2023 due to its high average price per kilogram, at GBP 14.68 (USD 18.22, EUR 16.92), and its average inflation rate of 7.6 percent.
"Pressure on personal finances continued to impact nearly all species sales in the first quarter of the year, with none of the top 10 species in volume growth," Watson said. "This trend is likely to continue into 2023 until financial pressure and uncertainty eases."
Even though ambient seafood sales increased last year due to shoppers seeking value, they're dipping this year, Watson said. Frozen seafood sales volumes dropped 8.1 percent, while ambient seafood volume fell 3.5 percent in March.
"This indicates the intent and seriousness of shoppers' focus on price," Watson said.
Inflation in the U.K.'s food and drink sector increased from 18.2 percent in February 2023 to 19.2 percent in March, according to the U.K. Office of National Statistics – the highest rate in 45 years since August 1977, according to the Food and Drink Federation.
The U.K. Competition and Markets Authority announced recently it will investigate the record-high food prices and their relationship with retail market competition. Separately, the U.K. House of Commons' Environment, Food, and Rural Affairs Committee said it will probe the entire food supply chain's role in inflation.
Grocery price inflation fell slightly by 0.1 percent to 17.2 percent for the four weeks leading up to 14 May, but according to new data from research firm Kantar, the rate is still "incredibly high." The 17.2 percent rate is the third-highest rate of grocery inflation since 2008, Kantar Head of Retail and Consumer Insight Fraser McKevitt said in a press release.
"This could add an extra GBP 833 [USD 1,034, EUR 960] to the average household's annual grocery bill if consumers don't shop in different ways," McKevitt said.